A great high-energy game for everyone
From College age and upwards, everyone can enjoy a game of Indoor Football. This friendly, easy to play and social sport is suitable for all ages.
FIFA has not officially recognised our version of indoor football, but it still provides an easy way for newbies to get into the sport, as well as being a great high-energy competitive game for those already fit and in shape.
So why not give it a go – play with friends or play with colleagues!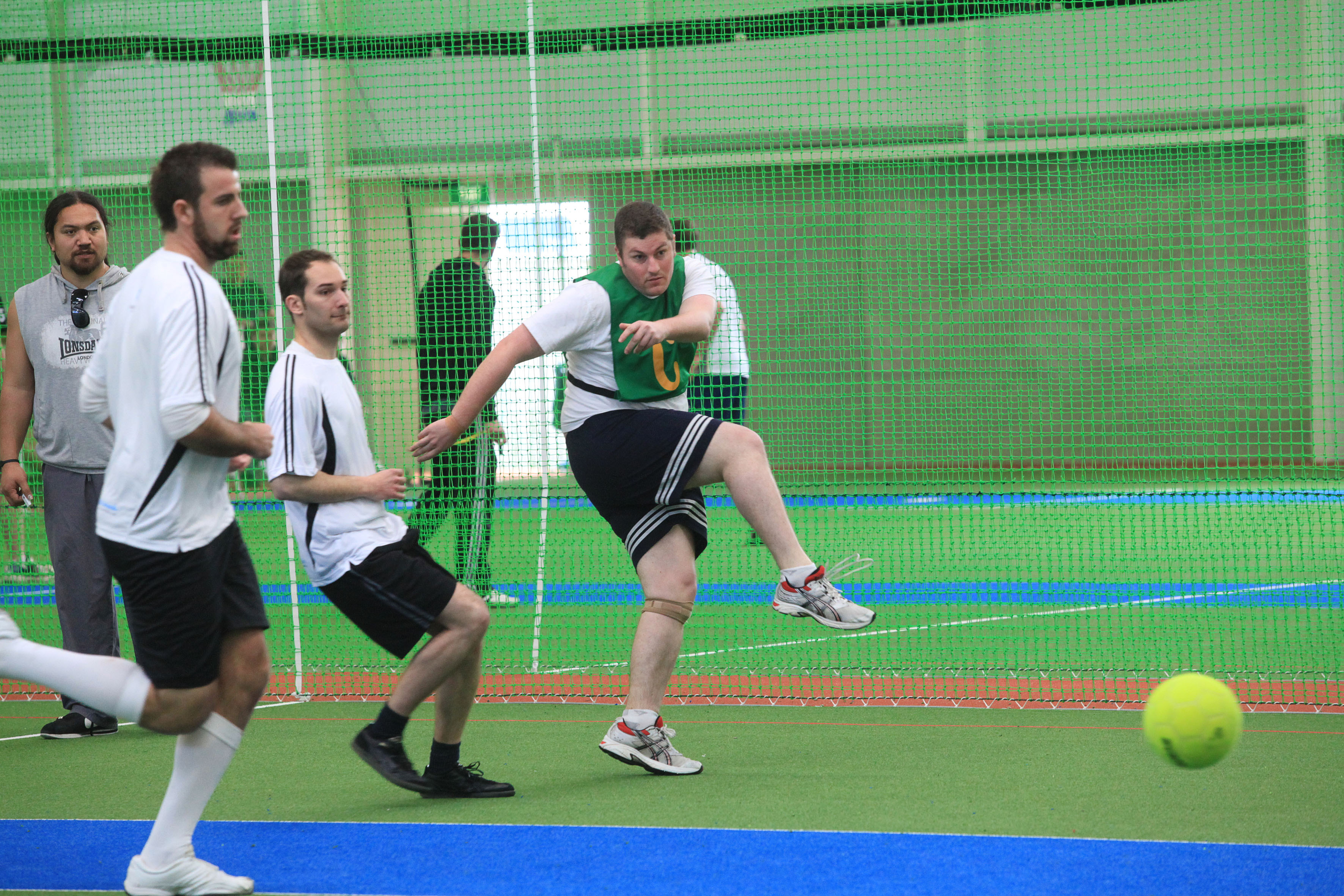 Location(s):
93 Hutt Park Road, Hutt Park, Moera
League Types Available:
Ladies, Mens & Mixed leagues
Team Numbers Required:

6 players on court.

For mixed leagues, at least 2 girls must be on court at all times

Weekly Fees:
Game fees are $72 per game.
Next League Starts:

Autumn League 2022 – Starts 7th March – Ends 3rd July (current season).

Winter League 2022 – Starts 4th July – Ends 23rd October.

Summer League 2022/23 – Starts 24th October – Early March 2023.
How our Indoor Soccer competition works
Lasting about 17 weeks, each Indoor Soccer league has three leagues throughout the year (autumn, winter and summer). The season will begin with a 3 week grading period for the league, and is followed by around 12 weeks of competition rounds. Your team can expect to play one game per week during this period.
The end of the season is finished with semi-finals and finals, which will help find a winner for each division (plus play-offs for minor placings).
We use a large yellow ball (similar to a massive tennis ball) which helps with gaining skills; this is a great way to learn for beginners. The games consist of 16 minute halves. Goals scored by males are worth 1 point, and goals scored by females are worth 2 points.
Team grading ensures the pace is challenging while suited to your level of ability and fitness
If you're looking to increase your fitness, have fun with your friends or increase your football skills, Indoor Soccer is the game for you. The large number of teams and effective grading system will help to ensure you are placed in a team that suits you.
Both men's teams and mixed teams are accepted – evening leagues
All mixed and men's leagues run Monday, Wednesday, Thursday and Friday.
Find a time that suits you
Evening game times run from 6:00pm – 9:30pm.
The majority of our evening members are made up of friends and family. 32 minute games are held in the evenings, and we get a very diverse range of people – from beginners to semi-professional soccer players. Travellers and backpackers also get involved for a short term basis.
For more information contact: